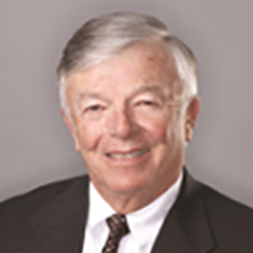 William Louis Weber, Jr.
December 9, 1934 – October 17, 2021
William Louis Weber, Jr., of Kenmore, Washington (formerly from Beverly Hills, Michigan) passed away peacefully surrounded by his beloved wife, Bridget and five devoted children William III and his wife Sherry, Clinton and his wife Sue, Kurt and his wife Anna, Vincent and Claire.   He is also survived by his five cherished granddaughters Charlotte, Sandra, Olivia, Stella, and Frances, and two dear grandsons William IV and Zane.
Bill was founder and Executive Director of the Professional Resolution Experts of Michigan, LLC (PREMi), an invitation-only association of Michigan's top mediators and arbitrators.  In the formation and development of the PREMi organization, he was a pioneer and visionary leader.  He assembled a group of highly talented, passionate and collaborative ADR providers devoted to excellence in the ADR field.  Under his capable leadership and with his energy, optimism and enthusiasm, the organization grew and thrived.
Bill's legacy of dedication to ADR will have a positive impact for many years to come.  He served as a mentor and role model to newer members of the Bar and the ADR profession and always treated everyone with dignity and respect.  Interim Executive Director Martin Weisman stated:  "Bill was a recipient of the State Bar of Michigan Alternative Dispute Resolution Section's Distinguished Service Award in 2013. The Distinguished Service Award is given in recognition of significant contributions to the field of dispute resolution. Bill frequently appeared before the Michigan legislature, tirelessly lobbying on behalf of new laws and reforms intended to promote more widespread use of ADR including the passage of the Michigan Uniform Arbitration Act. Under Bill's leadership, the ADR Section Automatic Mediation Task Force promoted mediation throughout the state of Michigan, but most of all, he was a dear friend as well as the kind of person everyone aspires to be."
Bill had a rich background of litigation, commercial, and governmental relations experience that complemented his arbitration and mediation practice.  He received his B.S. from Marquette University in Milwaukee where he was a member of its ROTC program. After graduation, he served as an officer in the U.S. Navy. After his Navy service, he attended the University of Cincinnati College of Law. After receiving his J.D., he joined the Navy Reserve and served for 20 years in Naval Intelligence. He later accepted a position with the Federal Trade Commission Antitrust Department in Washington, D.C. In 1968, Bill accepted a position with the Automobile Manufacturing Association. He subsequently joined the General Motors' legal department where he worked in environmental law and product safety.  After retiring from GM in 1997, Bill continued his career at the law firm of Daniels and Kaplan. His practice then included tort reform, arbitration, and mediation.  He was also a former Adjunct Professor of Law, teaching alternative dispute resolution at Thomas M. Cooley Law School.
Bill was one-of-a-kind; a dynamic, remarkable man of many talents.  An avid golfer competitive, accomplished squash player, colorful storyteller and seeker of the tastiest bourbons Kentucky ever made along with a fine cigar.  A wonderfully kind and compassionate human being who never hesitated to provide help and guidance to others and was always grateful to others. He will be fondly remembered and deeply missed by family, friends, and colleagues.